October 8, 2021

Hi everyone! 
I hope you're all safe and well. 

I have some gigs coming up this month! You can find me at the following locations:

OCTOBER 10: Bark Bar Subiaco, for a 'Suburban Vibes' and 'See Subiaco' collaboration! I'll be sharing the stage with some other wonderful artists from 1-4pm. 
OCTOBER 14: Petition Bar, for 'YELLO' Festival. 7-8pm 
OCTOBER 16: TELETHON - the band and I will be taking to the Channel 7 studio stage to play some songs for this brilliant cause. Tune in from 11.30PM to watch us, and donate!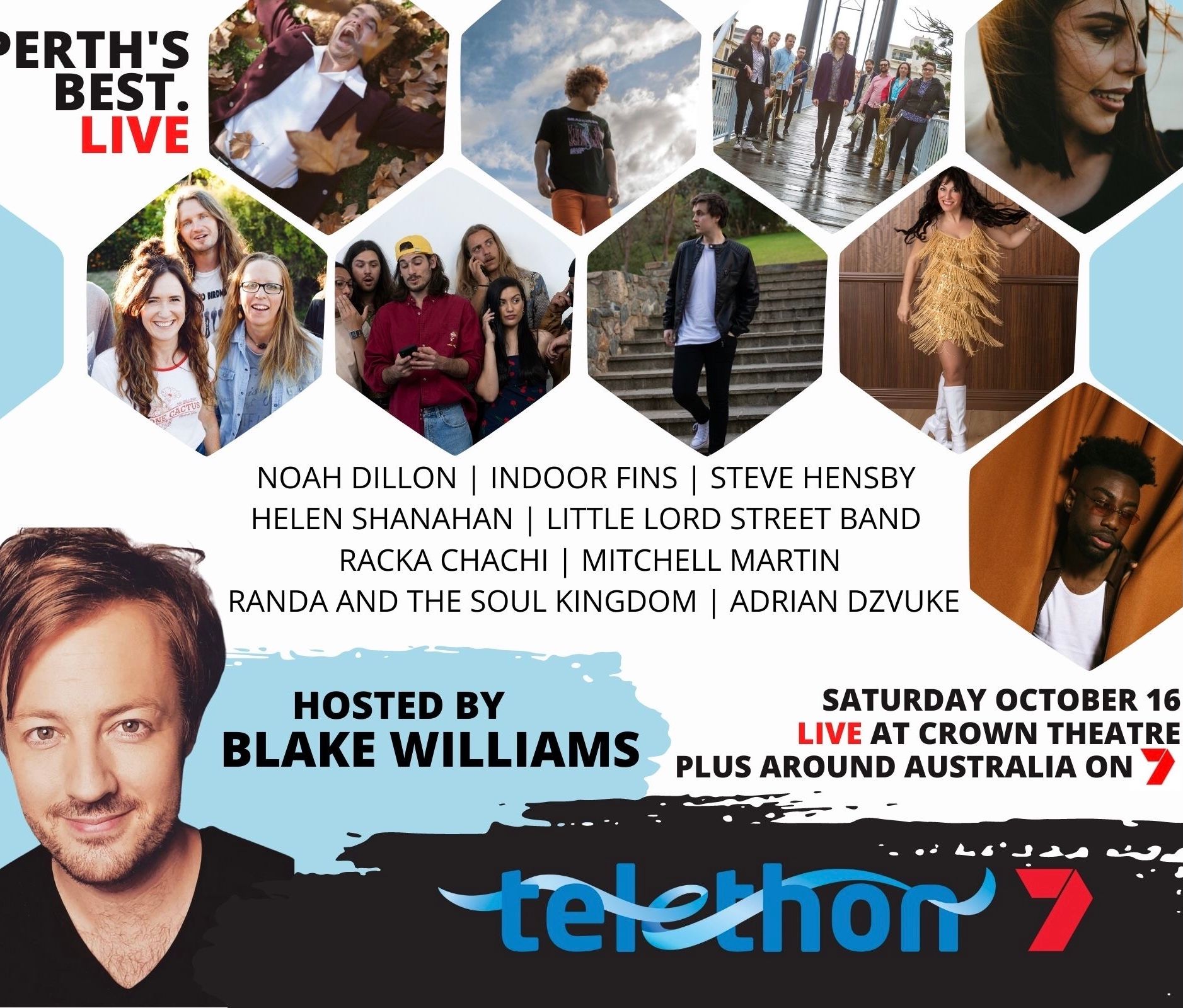 Would love to see you soon,
Helen xx
June 14, 2021

Hello my dear friends,
I cannot believe we are nearly half way through the year....as everyone always exclaims, "where does the time go?!".

If you follow me on my Facebook and Instagram (so up with the tech...) you would have seen that I am in the early stages of making my sophomore album! I was lucky enough to receive government funding to help get my project off the ground. I have now chosen my songs, and at the end of June I'll begin the recording process. I am going to record my guitar and vocals here in Perth, then send the tracks to Nashville to producer Brad Jones. Brad worked on my first album 'Every Little Sting'- I'm so excited to work with him again, and hear what magic he brings to this new batch of songs.

I also have some gigs coming up over the next few weeks! You can find me at the following locations:

JUNE 17: Clancy's Fish Pub for Writers Block - 7.30PM
JULY 9 : Suburban Vibes *Secret Location* - follow this link to find tix to this intimate show:
Suburban Vibes Ticket Link

JULY 11: Carole King 'Tapestry' at Lyric's Underground - 5PM
 
Would love to see you soon, and can't wait to share my new songs with you all!
Helen xx
May 5, 2021
Hi everyone,
I had the best time supporting Ben Lee and Missy Higgins at the Fremantle Prison last month. Ben and Missy were so lovely, and even watched our set - Matt and I felt very lucky!

Here in WA we've been COVID-19 free for the most part, but the last few weeks we've seen a few more cases on the rise. It's meant gigs are in limbo, however I'm still aiming to celebrate my latest EP 'The ø2 Sessions' at Kidogo Arthouse this Saturday 8th May. Masks are mandatory, and there will be social distancing and hand sanitiser. If anything changes you will be notified asap. These are the times we are living in, all we can do is take it day by day!

If you'd like to get a ticket, listen to the EP or peruse some of the photos from the Missy Higgins show - check out my link tree for all the info: Links to The Good Stuff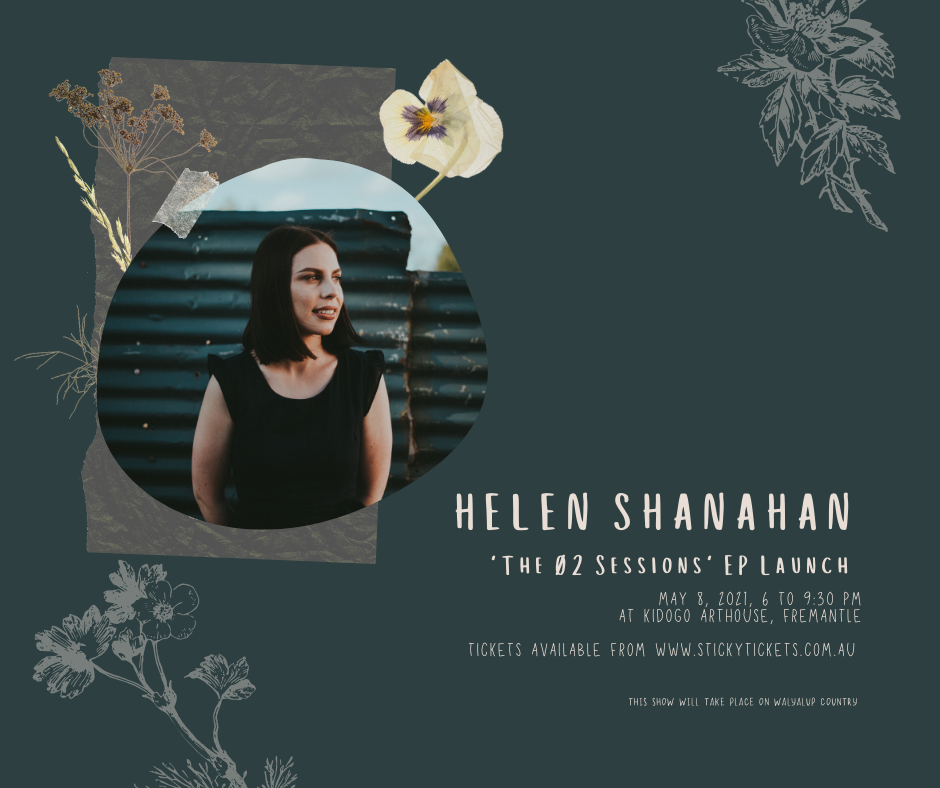 Lots of love as always, and stay safe out there!
 
Helen xx

 
March 29, 2021
Hi everyone,
I promised some exciting news and I'm beyond ecstatic to say I'll be supporting Ben Lee and Missy Higgins at the Fremantle Prison on April 15 and 16! Missy Higgins has been one of the biggest inspirations to my songwriting, so to say I'm excited is definitely an understatement. I hope to see some of you there?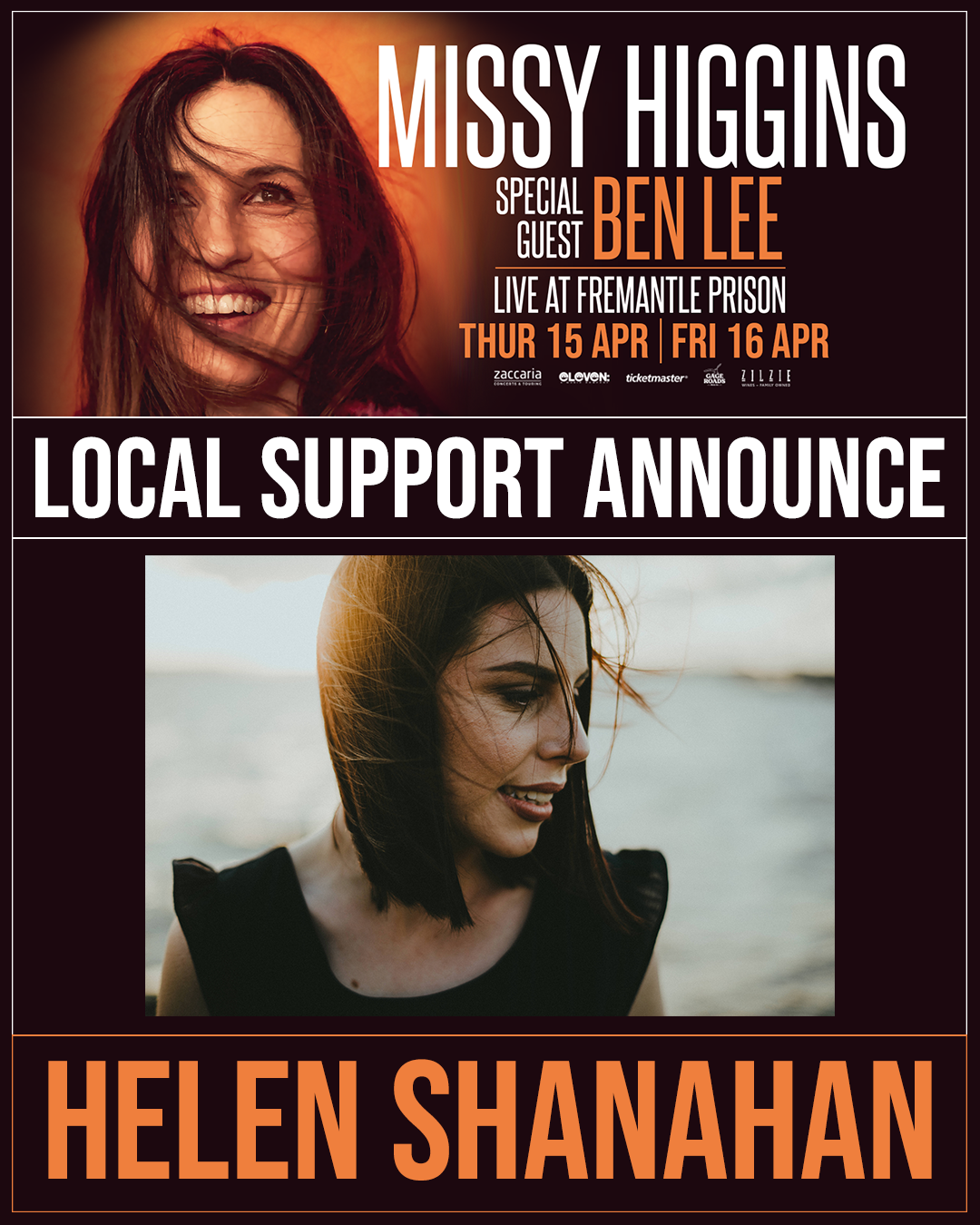 Lots of love, 
Helen x
March 17, 2021
Hi everyone,
Happy Belated New Year!
Once again, its taken me an age to update my blog - but I think this time I have an excuse, as we welcomed our daughter Bonnie Anne Allen into the world in November! Life with a 4 month old is every bit as tiring and wonderful as they say! We are loving life with our new addition.
Although I've been navigating full time motherhood, I've been privileged to still be a part of some beautiful gigs. I was blown away to be asked to sing backing vocals for the inimitable Tim Minchin for two nights at Kings Park in February. I had the best time and learnt so much from him. Bonnie got her first backstage pass, and even got a fan photo - that will be one for her 18th!
We also travelled to the Nannup Music Festival for the first time, and soaked up all the weekend had to offer. It was such a refreshing and connecting event - thank you Phaedra for putting on such a magical affair! We loved it and hope to be back next year.
Coming up next, I'm part of the first WA Music Week! I am playing on Friday 19th of March at HBF Stadium alongside Stella Donnelly, San Cisco and POND! I really hope my baby brain keeps it together.
Hope to see you at a gig soon - and stay tuned for some more exciting news!
Lots of love, 
Helen x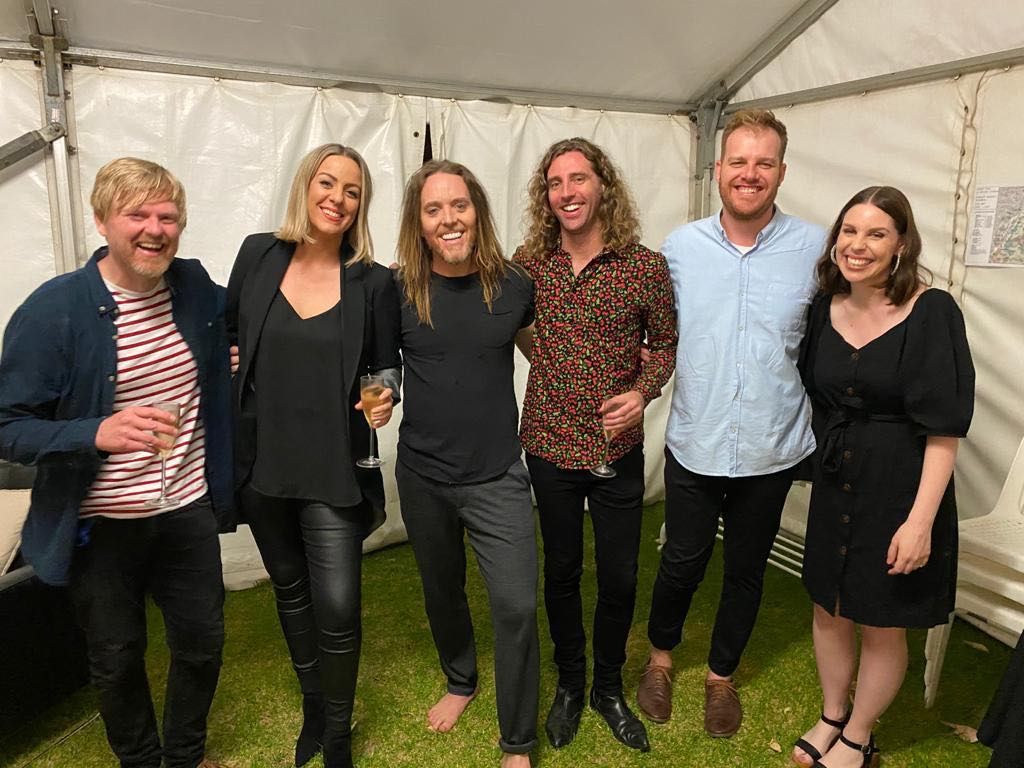 Monday, 31st August 2020
Hi everyone,
I hope you're all safe and well.
 
I just wanted to say a big thank you to everyone who has supported my new single 'It Goes For Miles'. Here in WA we are so lucky to be able to perform still, and we had a wonderful night at Lyrics Underground with the reformed 'Shanaband'. Were you there in the crowd? I also had 2 really special nights at the Kidogo Arthouse for Joanna's 'Candlelit Soiree's' - which were so intimate and filled with delicious food and the calming sounds of the ocean. If you came to a gig or if you've bought/streamed my new song - THANK YOU.
If you haven't had a chance to check it out yet, never fear! I will pop the links below for you to check out. Thank you to my dear friend and collaborator Jon Clements for producing the song - he did an amazing job making it sound like a true road trip song. Although it's hard to travel as we once did, its always nice to reminisce and think about how lucky we are to be alive.
I'm planning a beautiful show for October 2nd, I'll keep you posted - hopefully baby doesn't arrive before then!!
Lots of love, 
Helen x
Tuesday, 28th July 2020
Dear Friends,
My husband Matt, Toby (dog) and I have well and truly settled back into our home here in Perth, WA. After a long 3 months our dog Toby finally got the all clear to travel from London back to Perth, and we are so happy to have him back with us! It's been an adjustment for everyone during this COVID 19 pandemic, but for once we're happy we're so isolated in WA. This means we are able to actually keep some normality here, and gigs are starting back up again! There's also another reason why things have needed some adjusting, and that's because I am nearly 6 months pregnant with our baby girl. This means I'm extra excited to play some shows for you all, as when she arrives in November I won't be able to say when my next gig will be! So the bump and I are taking to the stage for 3 special shows in August. For anyone north of the river, I'm launching my single 'It Goes For Miles' at the brilliant venue Lyrics Underground in Maylands on August 23rd.
 
It Goes For Miles was inspired by my travels around the UK, in particular the Scottish Highlands. I was taken with the beauty of the landscape after driving through the scenic Highlands with Matt in 2017. 
 
The song is a celebration of the vast landscape, and the production by Perth based Jon Clements (02 Productions) helps to create the perfect road trip song.  After a year living and performing in the UK, I'm so excited to reunite with the band to help promote the single, with special guests Sydnee Carter and Matthew Garrod! 


If you're closer to Fremantle, you can see myself and Matt in a duo form while you have dinner provided by Kidogo Arthouse owner Joanna for her 'Candlelit Soiree'' shows. These will be on August 16, and August 29. 
Ticket links here:
 
SINGLE LAUNCH: Oztix Ticket Link
KIDOGO ARTHOUSE CANDLELIT SOIREE: Kidogo Soiree Ticket Link
 
Can't wait to see you at a show soon, if you're lucky to be in WA. I hope wherever you are in the world you are safe and keeping positive. These are strange times and thank goodness we have music to help us get through it all.
Love Helen xx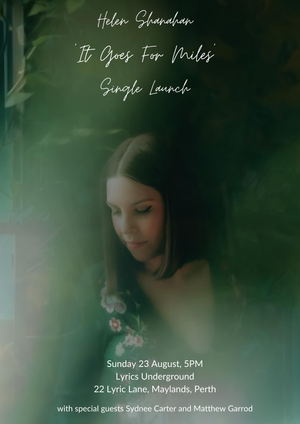 March 26, 2020
To my dear followers,
Let me start by saying I hope you're all safe and healthy. For those who aren't living under a rock (but probably wish they were) you may have heard about a tiny little virus called COVID-19. This worldwide health crisis has thrown everything into chaos, and unfortunately myself and my husband (and dog Toby!). We had to make the tough decision to go home to Australia before the borders closed, and all our gigs and tours for the foreseeable future have been cancelled. Due to Australia's tough border restrictions, our dog Toby is not allowed in the country until mid June, so a lovely Austrian couple are being his foster parents until he's allowed home.
On top of all this, my dear husband found out only 2 days ago that he has tested positive for the virus. We were already in isolation when we found out, however now we must isolate from each other! So we are in separate rooms at all times, and I am hoping he gets better ASAP! His symptoms are mild, but it is lingering. Please, try and stay home if you can and stop the spread. It really can happen to anyone. One of the last things I did in London was record some acoustic songs. I am so glad I got to do that before we left. I'm trying to think about a creative way to release them - at least now I have a lot of time on my hands!
I did write a new song a few weeks ago (before all this) which scarily sums up how I'm feeling now. That life happens, and the only thing we can control is how we respond. "I can't control the waves as they crash on the sand. Out of my grasp, out of my hands - and not what I planned"

Not What I Planned

 
Enjoy, and please take care everyone!
 
Lots of love,
Helen x 
January 6th, 2020
Dear friends,
HAPPY NEW YEAR! 2020, here we are. I was so lucky to spend the new year in the beautiful city of Edinburgh, where I saw glorious fireworks being set off from the castle. It was magical, although at one point I was being moved (not by my own accord) by a sea of the odd 80,000 people who had also shown up to join in the Hogmanay celebrations. However, it was quite the sight to see! How did you spend your New Years? I hope wherever you were, you were safe and happy. It's been absolutely devastating to watch as Australia burns in the horrific bushfires. Please check out the numerous websites to see where you can donate, I contributed my weeks coffee to comedian Celeste Barbers campaign (now at $31 million), which is outstanding. 
How to help

For me, 2020 is going to be about continuing to play and reach as many people as I can as an independent musician. I would love to do some more recording, but I'm still in the process of working out how I can afford to do so- and what the people would like to hear (if anything!!). I've got a list of my upcoming shows updated in my 'shows' tab. I'm trying to work on a very special gig for June - I know its an age away, but I will keep you posted. I'm also hoping to do another 'cafe' tour around the UK - so keep your eyes peeled.
Lots of love and as always, thank you if you're reading this!
Stay safe and I hope all your 2020 wishes come true.
 xx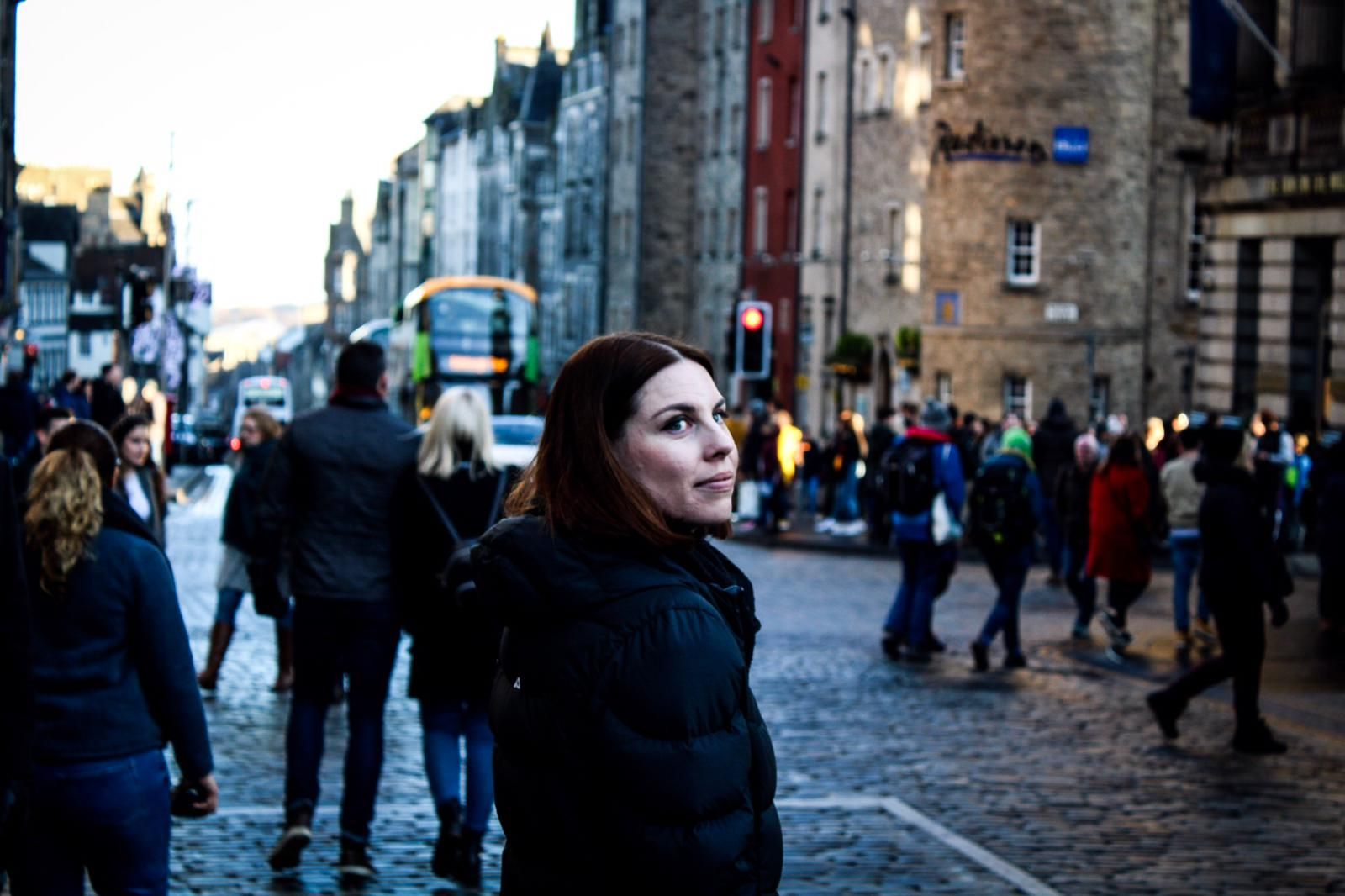 Looking forward to the new year...Edinburgh 2019 x
October 22, 2019
Dear friends,
I am very excited to say that I am heading out on a tour of the UK in November! Anyone who knows me, knows that I am an avid tea drinker! This inspired 'The UK Cafe Tour', where I will be visiting some intimate venues in Cambridge, Bristol and Manchester. To finish it all off, I'll be celebrating with a full band line up in London on November 28. Please feel free to spread the word if you live in any of these places, or know anyone who you think might like to come along!
 
Details below xx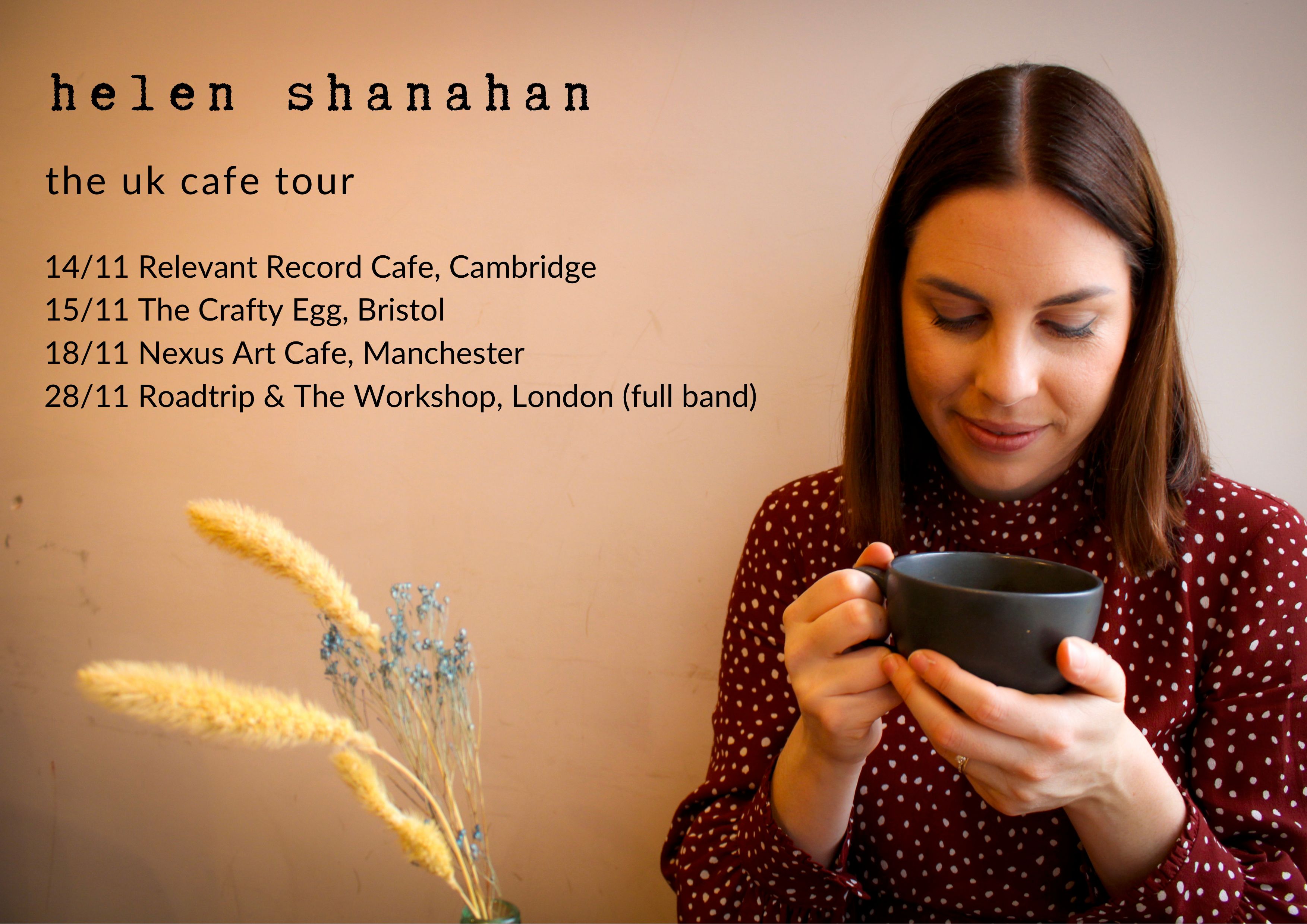 September 21, 2019

Hello everyone!
Wow, look at me go! 2 entires in a month? Who am I? Someone who probably has too much time on my hands...haha! If you are reading this, then thank you!

I had my single launch at 'The Finsbury' last week. It was a truly amazing night. It was my first full band gig in London, and the room was filled with a wonderful supportive crowd. I couldn't have asked for anything more! Thank you, if you were there! We gathered to celebrate my newest single 'Unborn'. I wanted to talk a little bit about the meaning behind it.

Growing up in Perth, Australia, I have been truly blessed. We have such pristine beaches, the air is clean, and overall we do a pretty good job at picking up our rubbish. I had been thinking for some time though, that I wanted to broaden my horizons and try living in a different city. Living in London has always been a dream of mine! I have always felt so happy here, looking at all the old buildings and the shows on West End- there are endless opportunities and things to do and see. I am living near the green 'Battersea Park' which is so big and beautiful. There are plenty of amazing parks here, it's like what the beach is to an Australian I think!


The only thing that struck me after living here for a few months, is the constant litter and pollution. I guess that comes with living in one of the biggest cities in the world. It just showed me how lucky I was to have lived in such a clean city, and how I may have taken it for granted. I watched as my dog Toby ate old chicken bones tossed on the sidewalk and ran for the open plastic bags lining the streets - but it was a turning point when we found him vomiting glass, which may have been hidden inside something he got off the footpath. I found myself picking up rubbish in his doggy bag, it was just mind blowing how people didn't seem to care. 

It made me concerned that people are still not worrying about the state of our planet. That we are living for us now, but not for the future generations. I don't want to preach, I just want to say how worried I am that this is not being treated as seriously as it should be. We are in the sixth massive extinction. I really want to have a family of my own, but I don't know what the future will look like. It was heartening yesterday to see the #ClimateStrike in London. I got emotional as I saw the young children with their signs, and it did give me some hope for the future. Greta Thunberg is leading the way, and she is so brave to stand up to the governments of the world and state the sad, but true facts. 

I also listen to my favourite podcast 'Better Than Yesterday' by Osher Günsberg. He's definitely more than your "Bachelor" TV host!! I highly recommend this podcast if you want more insight into the climate crisis, and ways to deal with any anxiety you may be feeling.

I hope this movement will change the current leaders policies, and help us start living for not only us, but our #unborn. If you resonate with this song, please share it - and maybe you can change the way someone thinks about how they're treating the world.
 
Helen xx